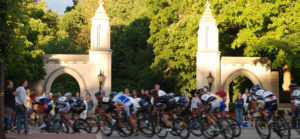 A few weeks ago, I wrote about pedestrian safety in Bloomington.  This week, I would like to focus on bicycle safety.  I was fortunate enough to be involved in the Little 500 for several years.  I was a rider in college and have served in various coaching capacities for the past 10 years.  As a father of two small boys, I rarely find time for long rides, but I still enjoy riding to and from work and around town on occasion.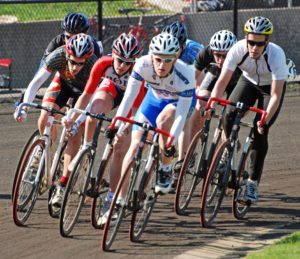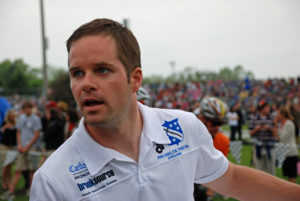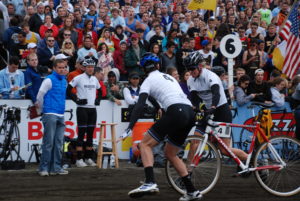 A month or so ago, I was riding my bike along a side street on my way to work.  A car drove behind me for a few moments and then slowly and safely passed me.  As they passed, a passenger in a stern voice yelled, "get on the sidewalk."  There was one substantial problem with this unsolicited advice – it violated the law!
Bloomington Municipal Ordinance 15.56.010 states:  "No person shall operate a two-wheeled bicycle on a sidewalk if the wheel diameter of the bicycle exceeds fourteen inches."  If you are hit by a car while riding on the sidewalk, then you arguably have comparative fault.  If a jury determines that your fault is greater than the driver's fault – you are barred from any type of monetary recovery no matter how significant your injuries.
From my own observation and experience, cycling on the sidewalk is most dangerous near entries and exits to driveways, subdivisions, and parking lots.  Drivers often do not check for or anticipate that bicycles will be on the sidewalk.
As discussed in my previous post , most personal injury cases in the state of Indiana are subject to the Indiana Comparative Fault Act.  Ind. Code § 34-51-2-1 et seq.  Under the Act, any fault of the injured person is used to diminish the amount of any recovery they can receive from the at fault party.  If the injured person's fault exceeds 50% – they are barred from recovery entirely.
Tips on Staying Safe as a Cyclist: 
Do NOT ride your bike on the sidewalk! It is a violation of Bloomington City Code and constitutes fault.  Bloomington Municipal Ordinance 15.56.010 states:  "No person shall operate a two-wheeled bicycle on a sidewalk if the wheel diameter of the bicycle exceeds fourteen inches."
Use appropriate lighting. If you are riding your bike without lights at night and are hit by a car, you are likely barred from recovery.  (For the Little 5 riders and serious cyclists, I would strongly advise use a bright flashing rear and forward facing light at all times regardless of the light conditions).
Wear a helmet – always! While there is no specific law that requires you to wear a helmet, it is a prudent thing to do.
Have a bike bell mounted on your bike. I know this one sounds silly, but Indiana law requires that all bikes be equipped with a bike bell.  Believe it not, defense lawyers will argue that you were at fault because you didn't have a bell.  Don't believe me – take a look at this Indiana Supreme Court case:  Sheptak v. Davis, 205 N.E.2d 548 (Ind. 1965); see also Code § 9-21-11-8.
Have proper brakes. I know that this seems obvious, but there is a trend amongst some cyclists (Hipsters – I'm looking at you!) to have fixed gear bikes without brakes.  This violates Indiana law and surely constitutes comparative fault.  Code § 9-21-11-10 states that: "A
 bicycle
 must 
be 
equipped 
with 
a 
brake 
that 
will 
enable
 the 
person 
who 
operates 
the 
bicycle 
to 
make 
the braked 
wheels 
skid
on 
dry, level, 
clean 
pavement."  If you can't skid your bike out like a 6-year-old, then you're not in compliance!
Riding Two Abreast? Indiana law actually permits cyclist to ride two abreast.  From a comparative fault (and from being a good steward of the community) standpoint I would suggest riding single file, especially in areas with lots of traffic.
For a list of other applicable Indiana bicycle laws visit Bicycle Indiana's website at:  http://bicycleindiana.org/images/Indiana_Bicycle_Laws.pdf
Conclusion
 I sincerely hope that your time in Bloomington is safe and without injury.  It is my hope that these tips and suggestions will serve as a useful reminder to you and that they will help keep you and your friends safe during your time in Bloomington.  This area of work is my passion, and I am happy to answer any questions you might have.  I am also happy to speak with and present to any group on campus or in town that wants to learn more about safety and about ways to avoid lawyers and lawsuits!
---
About the Author: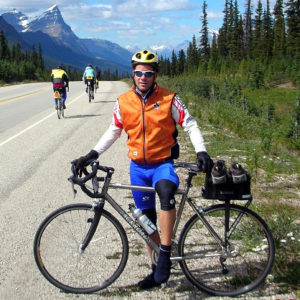 Brian is a partner at Bunger & Robertson and focuses his practice on representing people that have been injured and harmed by others.  Bunger & Robertson is a full service law firm that has been serving Bloomington and Southern Indiana for nearly 70 years.
More information available at: